Posted on
The Staffordshire Hoard poses a challenge  to tell the story and produce learning content because it is such a mystery, how can we tell the story of the Hoard when it is unknown? In case you don't know the Staffordshire Hoard is the largest hoard of Anglo-Saxon gold and silver metalwork ever found. It was discovered by a metal detector in field in Staffordshire in July 2009.  The story that the media has tended to focus on is about how it was discovered and how much it was worth. It was acquired by Birmingham Museums and Art Gallery (BMAG) and Stoke Museums in March 2010 at a cost of £3.285 million. 
The conservation and research programmes at BMAG and Stoke Museums will gradually discover more about the Hoard. But how can we can convey this learning process – even better, how can we allow people to discover and learn with us? I should of course add – with no budget! The answer for us at BMAG has been to attempt to capture what is being discovered and learnt as it is happens via blogs, videos and recently a live web chat, using the free/cheap digital platforms at our disposal. The conservation team Deborah Cane (project leader), Deborah Magnoler and Cymbeline Story have been blogging about their conservation work and so have other people working on the project. You can see many of the blog posts on the Staffordshire Hoard website  (due to a web glitch older posts are not showing at the moment).
The video work has been done with a cheap flip camera by the conservation team themselves. The flip camera was the perfect fit for doing something quickly and easily at low cost but that still produced good quality images in HD. I edit the film using the flip software and subtitle the videos using Universal Subtitles. We have produced 19 short Staffordshire Hoard themed videos since March 2011. The range of subject matters include conservation methods, new discoveries, the 2011 Mercian Trail tour, the 2011-12 Washington D.C. exhibition, behind the scene tours and a family Anglo-Saxon Day. They are available on the BMAG Youtube channel (all 19), Staffordshire Hoard Vimeo channel and the Staffordshire Hoard website.
The live web chat was the idea of Geoff Coleman, from birminghamnewsroom.com (Birmingham City Council's online press office), who had previously used Cover it Live (a free live blogging tool) for other council work. Curators Dave Symons and Morn Capper were asked about 30 questions by the public from the UK, USA and Germany over one hour, and as many as possible were answered. You can see a captured version of the the Hoardchat on the Staffordshire Hoard website and new images of some of the Staffordshire Hoard objects that have been conserved were put on Flickr to tie in with the event . We are going to do it all again with the Conservation Team soon.
From people's comments on our blog and their own blog posts it appears that many are enjoying the ability to learn with us, to ask questions – and make some calculated guesses! Museums attempt to tell the story of objects but we don't know that story, we're working on the pieces that will hopefully fit it together. And that means that people beyond the museum can be attempting to work it out at the same time as us. The most popular video and blog posts have been related to the Mystery Object. The interest in this started when we posted a video about how conservator Deborah Magnoler had noticed that two pieces of the Hoard fitted together.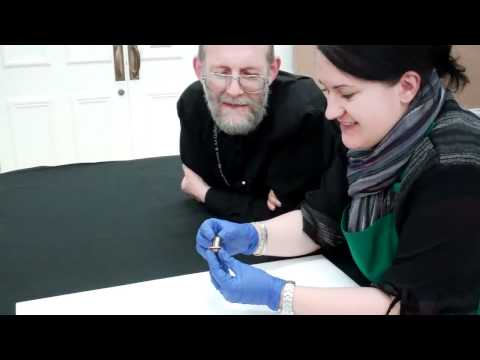 A third piece was discovered but the object remained equally mysterious and David Symons posed the question of what it might be in a post on the Staffordshire Hoard website. Since then we have been inundated with replies on the blog and via twitter and Facebook – many of them very good guesses. He then wrote another Mystery Object post looking at these suggestions – and as a result more guesses kept coming. He's promising another post again very soon on the new suggestions!  The great thing about this process is that we are learning together with the public, and learning from the public. 
As plans for a new Staffordshire Hoard gallery come together and we learn more we will of course be able to develop a more sophisticated digital offer that attempts to interpret the Hoard and brings it to life both in the new gallery and via other platforms. We already have lots of exciting plans and building on what we have already achieved and learnt is going to be important – remaining open, sharing, listening, answering questions and admitting we don't know all the answers! 
Linda Spurdle, Digital Manager, Birmingham Museums.